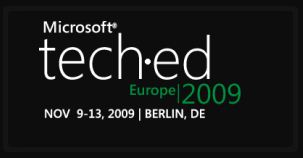 Well of to the second day, less waiting and direct access to everything. First I kicked of with : "Introducing Microsoft Exchange server 2010" Nice summery of all the features about exchange 2010. Basically a demo of de new features within outlook, owa and mobile 6.5 After this session I went to "Microsoft Forefront Unified Access Gateway : DirectAccess and Beyond" Well, this is about the access possibility's that the new product from Microsoft offers like Citrix Access Gateway, loadbalancing is included so there are some resemblances with the all known Netscaler. Nice product and planning to test the RC0 or RC1 . It especially focuses on SSO and the ease of usage for any normal user. Of to Lunch… Did a nice hands on lab about Microsoft NAP (network access protection) — Understand network access protection in windows 2008 R2 , after configuring this and going true the especially weird config regarding ipsec security I finished and went to the next session : "Storage & Hyper-V : The choices you make and the things you need to know". Very interesting session about storage with Hyper-V, nothing more nothing less. My last session for the day : "Ten things you should know about windows server 2008 R2 migration and deployment." Nice migration tool, well i tested it when i was migration my girlfriends laptop from Vista to Windows 7 ( basically the same ) but for the server edition you get extra features. Especially the migration tool combination with deployment services ( improved RIS ) was very interesting. Sure there are some other players on this market, but Microsoft is doing a great job of giving you this tool, so be sure to test this one out.
Read more on second day @ tech-ed Microsoft…
Read More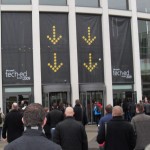 Well, like everybody now's it's the place to be to find out new technology's about Microsoft newest. Sure there are other brands worth looking in to.
First we had to wait a bit to get our pass. But when that was cleared, the fun got started.
– First i followed a session about "Useful hacking Techniques : Which Part of Hackers' Knowledge will help you in efficient administration?" , well it sounded cool, but is was a bit simple : talking about basic hacking stuff on a windows 2003/2008 server with some services and registry tools.
Well of to lunch then, 🙂 .
– Second was in my opinion the most promising, but wrong again. More sales then techn. : Moving Unix workload to windows 2008 R2 and Intel Nahelem EX.
After these two sessions i decided to play it safe. Well a nice hand-on with 2008 R2 Hyper-V did the trick. After playing around with Hyper-V i was back on track en hopeful for the days to come.
Read more on first day @ tech-ed Microsoft…
Read More