first day @ tech-ed Microsoft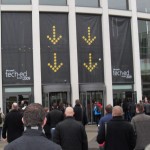 Well, like everybody now's it's the place to be to find out new technology's about Microsoft newest. Sure there are other brands worth looking in to.
First we had to wait a bit to get our pass. But when that was cleared, the fun got started.
– First i followed a session about "Useful hacking Techniques : Which Part of Hackers' Knowledge will help you in efficient administration?" , well it sounded cool, but is was a bit simple : talking about basic hacking stuff on a windows 2003/2008 server with some services and registry tools.
Well of to lunch then, 🙂 .
– Second was in my opinion the most promising, but wrong again. More sales then techn. : Moving Unix workload to windows 2008 R2 and Intel Nahelem EX.
After these two sessions i decided to play it safe. Well a nice hand-on with 2008 R2 Hyper-V did the trick. After playing around with Hyper-V i was back on track en hopeful for the days to come.